Description
Replacement Harness Wire for Thermotex™ Horse Blanket
While the Thermotex Horse Blanket is built to last, sometimes events occur that can fray or break the harness wire. While this is very unusual and rare occurrence, a replacement harness wire may be needed.
This is the harness only and does not include the infrared heating pads or an additional switch.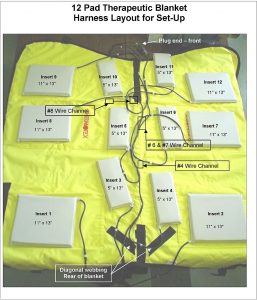 Free Air Shipping
We are able to ship the blanket to you direct from the manufacturer in Alberta, Canada, by DHL Air Express. For delivery in the United States, your package will normally arrive within 2 to 3 business days. You do not need to choose priority shipping for this product as this is already the fastest delivery option available!

Thermotex Equine products ship to you directly by UPS air from the manufacturer in Alberta, Canada, and may not arrive in the same package or at the same time as other products you order from Pain Relief Essentials.
With our Free Shipping, your horse blanket replacement harness wire will usually arrive withing 3 business days (often next day for morning orders) to locations within the United States.
Because we are happy to offer the Thermotex Infrared Horse Blanket Replacement Harness Wire at the lowest price available, it is not eligible for discount coupons.
NOTE: For hygienic and health reasons, used equine and pet products are not returnable.