Rhythm Touch Replacement Pads For Your Rhythm Touch Q or 2-Way (Electrodes)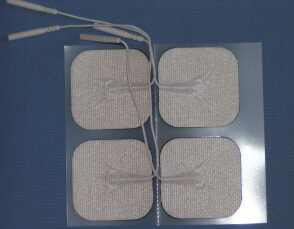 Pain Relief Essentials offers carefully selected Rhythm Touch replacement pads and cords for the Rhythm Touch electrical muscle stimulator that are made in the USA. These pads also work extremely well with other electrical muscle stimulators and electrical massagers such as TENS units, and other products of similar nature.
These cloth backed replacement pads (electrodes) are constructed of a uniquely coated Silver (Ag) carbon film that provide superior conductivity and eliminate electrical current "hot spots".
We even offer a Sensitive Skin hypo-allergenic version of our square electrodes for those who find their skin is irritated easily.
This highly conductive silver layer disperses the electrical current evenly over the entire electrode surface. Our electrodes are also manufactured with stranded copper wire instead of a carbon lead. The end result is that you will have a more comfortable and effective use of your device.
Learn more about Pain Relief Essentials premium Rhythm Touch Pads and their balance of comfort, effectiveness, durability, and price.

Save 15% on Rhythm Touch Replacement Pads and Supplies. Join newsletter for code.
These electrodes also work with Dr. Ho Massagers. Dr. Ho Massagers do have a proprietary cord which we have tested with our pads and they work very well together. See Below
Pain Relief Essentials believes that the Rhythm Touch 2-way is the best product available for Muscle and Joint pain reduction, and have found that our replacement pads do seem to last longer than other replacement products. For extended pad life, please read about caring for your Rhythm Touch or EMS electrodes here.
Acu-Therapy slippers
Acu-Therapy slippers for the Rhythm Touch and other EMS devices. The addition of the new Accu-Therapy slippers to the Rhythm Touch is simply incredible. The slippers address a problem that many of our customers have: poor circulation in lower legs and feet.
The slippers make the Rhythm Touch so much easier and convenient to use on your feet. Just drop a little water based jell (we like Aloe Vera gel) on the five contact points inside the slipper, slide your feet in and adjust the straps for good contact, connect the Rhythm Touch to the lead wires that come with the slippers, turn on the Rhythm Touch, adjust strength to comfortable level and sit back and enjoy.
The bottom of our feet is like a fuse box. There are several pressure points on the bottom of our feet and these pressure points are associated with other parts of out body. By stimulating the pressure points the body part associated with the pressure point is also stimulated. The accu-slippers stimulate these pressure points and activate circulation.
If you have neuropathy you may not feel the stimulation right away, even at full strength. Customers report either feeling the stimulation immediately to up to two weeks before feeling the sensation with consistent use. Take it at your pace but use it at lease once a day for at least 15 minutes. Consistent use is the key; don't expect to get the same results sitting down for two hours once a week as you would if you used the slippers 15 minutes every day
Prices in US Dollars
Plus USPS shipping and handling of $4.99 in the US
Rhythm Touch Massager sold separately
Do our pads work with other products? Yes!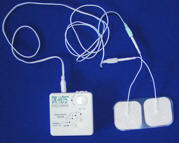 Here you can see Pain Relief Essential electrode pads attached to the Dr Ho's Massager. We have tested the pads with the unit and they work very well!
Pain Relief Brands of Products Available
Find specific instructions under each category under Conditions that cause pain and need relief.
Save
Save