Description
A chemical-free way to clean and sanitize flooring surfaces and more!
Do You Need to Sanitize Floors and Surfaces Fast and Easy? Use a Smart Living Steam Mop For Cleaning and Disinfecting
By using continuous high temperature steam (230 degrees F) the Smart Living Steam Mop Plus cleans and sanitizes surfaces including wood floors, vinyl floors, and ceramic floor tiles. It will also work on non floor surfaces made of the same materials. It will visibly remove grease and dirt from hard floor surfaces or carpet in just a few minutes and does not require the use of toxic chemicals or detergents.
A healthier and green way to clean.
Continuous high-temperature steam.
Steam cleaning kills 99.9% of bacteria, germs and dust mites.
Removes visible dirt and grease with ease.
It's a healthy and green way to clean, sanitize and disinfect.
You just fill the steam mop with water
Attach the reusable micro-fiber pad
Clean the floor or surface
You may have seen this steam mop demonstrated at you local home show or fair and really wanted to get one but for some reason weren't able to. So, we've decided to offer you a show special – it's a REALLY great deal! You get the same deal you would get at the show PLUS more.
You get the Smart Living Steam Mop with a washable and reusable microfiber pad for an online special of $225.99.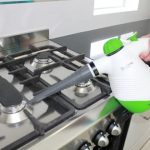 PLUS we will include a FREE Steam Junior – this is our 'handheld Steamer' which is great for all the surfaces and places that the mop can't reach. Any surface in the kitchen, any surface in the garage, any surface in the car, etc. It's also great on any fabric surface like your bed, your couch, your arm chair – and it normally sell's for $79.95 on it's own. We have a limited quantity of these handheld steamers so they are included on a first-come-first-serve basis.
PLUS we will include three (3) additional washable and reusable microfiber pads for your steam mop that normally sell for $25.99 – For FREE!
PLUS we are even offering ground shipping for FREE* in the continental USA!

All together the value of this package is over $330 and we are able to offer it right now for just $225.95.
"A steam cleaner is a good solution for cleaning and disinfecting things you can't wash in the washer. Steam can kill 99.9 percent of dust mites, germs and bacteria including such dangerous germs as salmonella, staph bacteria and E. coli. Steam cleaners also remove dirt and stains from carpet, upholstery, drapes and other fabrics." https://www.maids.com/blog/how-to-prevent-the-coronavirus-by-disinfecting-your-home/
How to get the most out of your steam mop
To get the mop started all you have to do is plug your mop into an outlet. As soon as you plug it into the outlet the little light on the shoulder of the water bottle will begin to start blinking. It shows that you are plugged in but that you don't have the mop on yet.
When you are using your steam mop at home you can fill it with any kind of water. Filtered water is great, same with distilled and reverse osmosis water. Tap water is fine too. If you are using tap water we do want you to store it empty and also add a little bit of vinegar – about a tablespoon – through the water once a month. That way you don't get scale.
Water gets filled right through the hole in the top of the water bottle. You get a little cup to fill it with. Once you fill it, plug the mop in. Again, once it's plugged in the blue light is going to blink which means it's plugged in but that you don't have it on.
After about 30 seconds after you've plugged it in, hit the little blue light. That turns the mop on and you'll get steam within 30 seconds.
When you are applying the microfiber pad, their just Velcro. So all you're going to do is put it on the floor and place the mop over the pad. You can put on the pad before you turn the mop on, but we recommend that you put the pad on after you turn it on because there is a little bit of moisture that comes out of the mop right when you turn it on. If you already have the pad on you'll be starting out with a wet pad to clean your floor. We recommend that you turn the mop on and hold it until it's steaming, and then attach the microfiber pad by placing the unit on it. Now you'll start with a dry pad and be able to clean a much bigger area before you need to switch the pad.
TIPS
A helpful tip if you have a hardwood or laminate floor. If you need to take a break, don't leave the mop on the surface of the floor. Remember that you have a carpet glider for thick carpets – this works great for a stand and you can rest the mop there if you need to step away for a bit.
Another great tip, the handle actually comes out to make the unit a little smaller. Just turn the unit around to find the clip that holds the cord button. This button releases the handle for the mop. Now you can use the mop as a hand-held so if you want to scrub your furniture in the living room where the dog likes to run, or if you want to take it across your mattress once a month to kill dust mites and bacteria for anyone with allergies, or even just clean your kitchen countertops if they are marble, laminate, or granite.
Now remember your steam mop can also be used to clean carpet. While it's not for deep cleaning, but if you have heavy traffic areas that get a little dirty or if you have a stain, it's great for those small jobs. If the carpet is nice and thin, you'll be able to push it pretty easy with the microfiber pack. If you carpet is plush then place the mop in the carpet glider which makes it easy to go back and forth, especially if you have a big area to mop. For a stain in one spot, take the mop off the glider with the microfiber pad and actually put it directly on the stain. Let it sit there for about 30 seconds and allow the steam to break the stain down. Once you've let it sit there, scrub it back and forth in the spot so the microfiber can take the stain from the carpet and transfer it onto the pad.
Store the mop empty.
Wash the pads in the washing machine. Do not use Bleach. Do not use fabric softener or dryer sheets. If you hang them to dry they will last longer – about another six months.
Smart Living Steam Mop With All New Design Enhancements
Steam Mop Parts and Features
The Smart Living Steam Mop is designed to clean surfaces that will withstand high heat and moisture. Do not use on unsealed wood surfaces (especially wooden antique furniture), un-glazed ceramic tile, painted surfaces or surfaces that have been treated with wax, oils, varnishes, or shellac. The sheen may be removed by the heat, steam, and friction of the cleaning tools. Lacquer and polyurethane coating provide a hard durable protective finish that withstands moisture but it is always recommended to test an isolated area of the surface to be cleaned before proceeding.
We also recommend you check the use and care instructions from the floor manufacturer. When cleaning finished wood surfaces, use broad, continuous cleaning strokes. To prevent surface damage, avoid focusing steam or allowing the steam mop to sit in one spot for any amount of time.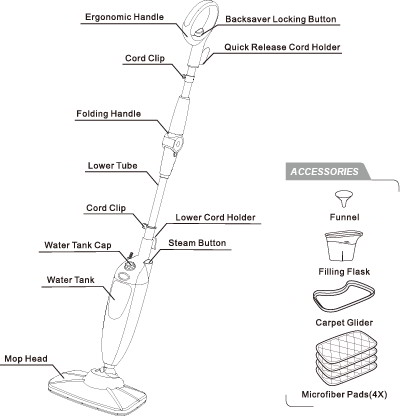 Steam Mop Assembly
When assembling your steam mop, there may be a little water in the water tank. This is because we test all our steam mops 100% before you buy them, so you get a quality steam mop.
Remove all the parts from the package. Verify all the parts are included.
Insert the lower tube into the folding handle as shown. (fig.1)
Insert the assembled tube into the base of the steam mop. gently push down on the tube until you hear it click into place. (fig.2)
IMPORTANT Always make sure the steam mop is unplugged from the electrical outlet when not in use, or before filling the water tank.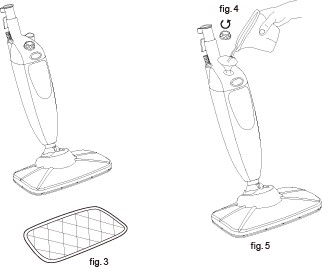 Place the microfiber cleaning pad on the floor with quick fastener strips facing up. Simply press the steam mop onto the pad to attach.(fig.3)
Remove the water tank cap by turning it counter-clockwise to the unlocked position. (fig.4)
A filling flask and funnel are included with your steam mop to make filling the water tank easy. Fill the flask with water and use the funnel to pour water into the tank. Keep the water level under the MAX line. (fig.5)
Replace the water tank cap by turning it clockwise to the locked position.
IMPORTANT Only add water to the tank. Chemicals or cleaning solutions may be unsafe or cause damage. To extend the life of your steam mop, we recommend using distilled water. If you live in an area with hard tap water, we strongly recommend using distilled water.
TIP Your microfiber cleaning pads should be replaced every 3 months to maximize cleaning performance.
How to Use Your Steam Mop to Clean and Disinfect Floors
When you use your steam mop for the first time or if you have not used the unit in a while, it may take a minute or two for the water to travel through the pump and into the heater to create steam. If you have waited a few minutes and you still do not see any steam, reference the troubleshooting section of your manual.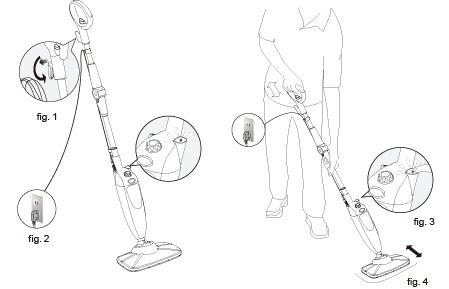 IMPORTANT Your steam mop needs water to make steam! Never use your steam mop without water in the tank or a pad attached. Sweep or vacuum your floors before using your steam mop. It may take a few seconds for the mop to warm up and start steaming after you plug it in. If you press the steam button and the unit does not begin to steam immediately, just wait a few seconds for the mop to heat up to a deep cleaning and sanitizing temperature.
Pull and twist the quick release cord holder to unwrap the power cord completely. (fig.1)
Plug into a standard electrical outlet. (fig.2)The LED light will blink blue to show that you are in standby mode. If the light does not turn on, reference the trouble shooting section.
Press the steam button, the LED light will turn solid blue, and the electronic pump will automatically generate steam.(fig. 3)
Clean your floors with a forward and backward motion. (fig.4)
Press the steam button at any time to stop the steam.
Clean under furniture and tight areas using the folding handle benefit. Press the handle release button and apply slight pressure to bend the handle. The folding joint will lock at a perfect, maximizing angle. (fig.5)
Press the release button again and pull up to straighten
The versatile steam mop also has a Carpet Glider. The carpet glider transforms your steam mop in no time. Now you can freshen and deodorize your carpets and area rugs with the power of steam.Set the carpet glider on the carpet with the smooth side down. Place the mop head, with a pad attached, on top of the carpet glider. The steam mop will rest on top of the glider. (fig. 6)
Plug in the steam mop and begin freshening your carpet by pushing the mop and glider back and forth to release steam. (fig. 7) When finished, unplug the steam mop and store it as you would normally.
TIP The steam mop will not pick-up solid particles or hair from carpets or areas rugs, but it is great for deodorizing and freshening carpet surfaces against tough odors.
* Steam Mops ship from Washington State within a few days of order