Sports Injury Pain Relief and Recovery
Sports Injuries commonly occur during sports or exercise. They usually involve damage to the musculoskeletal system including muscles, bones, and other tissues such as cartilage. Common Sports Injuries include muscle strains and tears, ligament tears, tears to tendons, dislocated joints, and fractured bones.
Sprains and Strains – Strains are a common sports injury caused by twisting, pulling, or tearing a tendon or muscle often resulting from over stretching or over contracting. Strains may include pain, muscle spasm, and or loss of strength. Severe strains should be treated professionally. Sprains include ligament stretches or tears, or in extreme cases my include ruptures to supporting ligaments. They are usually caused by a fall or blow to the body that moves a joint out of position.

Lateral View of the Knee

Knee Injuries – Knees are the most commonly injured joint in the body. Injuries may be severe or mild, yet all are usually painful and limit functionality. They may result from twisting the knee, blows to the knee, running, and improper warm-up before exercise. Some common knee injuries include runner's knee (pain near or under the knee cap on the front or side of the knee) and iliotibial band syndrome (on the outer side of the knee) and tendonitis or tendinosis (when tendons have degeneration often where they join the bone). Severe injuries may also include bone bruises or damage to ligaments or cartilage including the meniscus and the articular cartilage. In all, there are four major ligaments that support the knee; the anterior cruciate ligament (ACL), the posterior cruciate ligament (PCL), the medial collateral ligament (MCL), and the lateral collateral ligament (LCL).

Compartment Syndrome – Compartment Syndrome by be caused by a traumatic injury like a fractured bone or blow to the thigh or by repeated hard blows or overuse. This sports injury affects the compartments found in many parts of the body that are formed with a tough fascia membrane around muscles, nerves, and blood vessels. The muscles become swollen and fill the compartment which interferes with the nerves and blood vessels and may also damage the muscle.
Shin Splints – Shin Splints are usually caused by running and refers to pain along the tibia or shin bone. The pain may be in the front outside part of the lower leg (anterior shin splints), or on the inner edge of the bone against the calf muscles (medial shin splints).
Fractures
Sports injury may occur from activities such as as: Running, Hiking, Road Biking and Mountain Bike Riding, Football, Basketball, Tennis, Baseball, Golf, Swimming, Rock Climbing, Mountaineering, and many more.
Sports injury can include such conditions as muscle tears, sprained muscles, strained tendons, pulled muscles, impact sores such as hematoma and bruising, and general muscle tiredness from usage.
Injury Prevention: Some methods of injury prevention prior to sports and recreational activities include self-myofascia release which is also known as foam rolling, three different styles of stretching, and simple muscle warm up.
Self-myofascia release (check back for more information)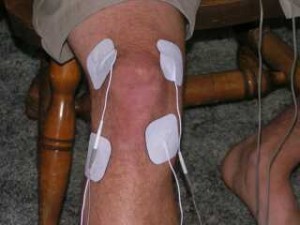 FDA cleared cordless infrared heating ankle wrap demonstrated.

Far Infrared therapy products. Far Infrared therapy has been available and used by therapist for some time. Now you can enjoy FIR at home or while traveling with a choice of either wired or cordless designs from Pain Relief Essentials. This infrared therapy for your body is perfect for athletes as well as for people who have joint pain just about anywhere on their body. Temporarily relieve minor muscle and joint pain and stiffness. Temporarily relieve joint pain associated with arthritis, muscle spasms, minor strains and sprains and minor muscular back pain. Use it for muscular relaxation as well as for temporarily increasing local circulation where applied.
Electrical Muscle Stimulation Sports Usage Reference:
~~~~~~~~~~~~~~~~~~
Space tech on the run – Paralympics record breaker – 28 September 2004 – Susanne Marek, Technology Transfer and Promotion Office (EUI-PP), European Space Agency – ESTEC
"On the final day of the Paralympics German Wojtek Czyz surpassed his wildest dreams by breaking the world record for long jump, earning him his third gold medal. Competing with a space-tech enhanced prosthetic leg, he got the gold in all three of his events, 100 m sprint, 200 m sprint and long jump….
…Training at the German Sports University in Cologne (DSHS), ESA's Human Spaceflight Directorate made available to Czyz the *Percutaneous Electrical Muscle Stimulator (PEMS) II developed by the Swiss company Syderal. PEMS II and its predecessor PEMS I, both created for use on the International Space Station, prevents the effects of microgravity on astronauts particularly muscle atrophy and accompanying effects like bone mineralization and cardiovascular de-conditioning. "I was able to train for 10 weeks with PEMS and this significantly improved the muscle mass of my leg so that I no longer have problems fitting my prosthesis," says Czyz."
*Percutaneous means "through the skin"
~~~~~~~~~~~~~
Prolonged electrical muscle stimulation exercise improves strength and aerobic capacity in healthy sedentary adults – Journal of Applied Physiology – Prithwish Banerjee,1 Brian Caulfield, 2 Louis Crowe, 3 and Andrew Clark 1 – Submitted 17 August 2004 ; accepted in final form 18 July 2005
Department of Academic Cardiology, Castle Hill Hospital, University of Hull, Cottingham, Kingston-upon-Hull, United Kingdom;
School of Physiotherapy and Performance Science, University College Dublin, Belfield, Dublin 4, Ireland;
Biomedical Research Ltd., Galway, Ireland )
~~~~~~~~~~~~~
The Effects of Neuromuscular Electrical Stimulation Training on Abdominal Strength, Endurance, and Selected Anthropometric Measures – Journal of Sports Science and Medicine (2005) 4, 66-75 (link is to abstract) – John P. Porcari 1 , Jennifer Miller 1, Kelly Cornwell 1, Carl Foster 1, Mark Gibson 1, Karen McLean 2 and Tom Kernozek 2
Department of Exercise and Sports Science, University of Wisconsin-La Crosse, USA
Department of Physical Therapy, University of Wisconsin-La Crosse, USA)
Full 10 page research document: (297 KB PDF file) http://jssm.org/vol4/n1/9/v4n1-9pdf.pdf
Abstract:
"We studied the effects of self-administered neuromuscular electrical stimulation (NMES) on changes in strength, endurance, selected anthropometric measures, and subject's perceived shape and satisfaction of the abdominal wall. Twenty-four adults (experimental group) stimulated their abdominals 5 days per week (20-40 minutes per session) for 8 weeks and refrained from engaging in any additional exercise during the study. A control group (N=16) refrained from exercising the abdominals or engaging in any other exercise training during the study. Subjects were tested at the beginning, mid-point, and end of the study. Isometric strength of the abdominal muscles was tested using a isokinetic dynamometer, endurance was measured using the ACSM curl-up test, abdominal circumference was measured using a steel tape measure, and body shape and satisfaction were assessed via questionnaire. The stimulation group had a 58% increase in abdominal strength, whereas the control group did not change. The stimulation group also had a 100% increase in abdominal endurance versus a 28% increase in the control group. Waist circumference decreased by of 3.5 cm in the stimulation group compared to no significant change in the control group. All 24 subjects in the stimulation group felt that their midsections were more "toned" and "firmed" and 13/24 (54%) felt that their posture had improved as a result of the stimulation. None of the control group subjects reported changes in these parameters. There were no significant differences in body weight, BMI, or skinfold thickness over the course of the study in either group. NMES, as used in the current study, resulted in significant improvements in the muscular strength and endurance of the abdominal region, as well as subject's perceived shape and satisfaction of the mid-section."
~~~~~~~~~~~
Some information abstracted from the "Sports Injuries Handout on Health" from the National Institute of Arthritis and Musculoskeletal and Skin Diseases, a part of the U.S. Department of Health Human Services National Institutes of Health.