Pain Relief Essentials offers pain relief brands and pain relief products that have brought pain relief to thousands of users. Please visit the individual condition pages for specific information and instruction on how to use these products to help alleviate your specific pain.
Pain Relief Brands of Products Available
Find specific instructions under each category under Conditions that cause pain and need relief.
"I am late in getting this note to you but wanted to let you know that my Rhythm Touch unit has been a blessing. I travel a LOT in my job and my lower back muscles really take the heat and get tight. The only way I can survive is by having my unit available to relax the muscles. What a great investment."
The most complete package available on the web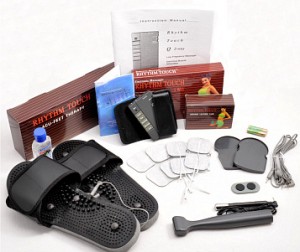 Code: RTQDP
Price: $599.00  ONLY $299.95 US!
The Rhythm Touch Q Electrical Muscle Stimulator Deluxe Package Contains:
1 Rhythm Touch Complete Kit
PLUS
1 pair Rhythm Touch ACU-FEET THERAPY
PLUS
1 Rhythm Touch GENUINE LEATHER CASE
PLUS
1Custom EASY TO READ MANUAL
PLUS
Now: 1 Extra set of 4 special Pain Relief Essentials pads