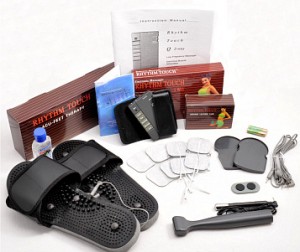 Rhythm Touch Electrical Muscle Stimulator
The Rhythm Touch 2-Way Electrical Muscle Stimulator is useful for deep muscle and tissue pain relief. With the longest* history of use and with many thousands of customers who have found relief from their pain through the use of this particular acu-therapy machine, we have found most of our users prefer this brand. Please read our comparison pages to learn how different electrical muscle stimulators relate.
The Rhythm Touch 2-way has been cleared for non-prescription sale via premarket notification K063743 for temporary relief of pain associated with sore and aching muscles in lower back due to strain from exercise or normal household and work activities. (http://www.accessdata.fda.gov/cdrh_docs/pdf6/K063743.pdf)
It has also been approved for prescription sale by the US Food and Drug Administration for relaxation of muscle spasms, prevention or retardation of disuse atrophy, increasing local blood circulation, muscle re-education, immediate post-surgical stimulation of calf muscles to prevent venous thrombosis, and for maintaining or increasing range of motion. (https://www.accessdata.fda.gov/cdrh_docs/pdf3/K032178.pdf)
Special Accessories
A special Acu-Roller, Acu-Pen for acupressure therapy, and Myofacial Pad come with the Rhythm Touch package. These specialty items are unique and incredibly effective for acu-therapy.
Save 15% on Rhythm Touch Complete Kit and Packages. Join newsletter for code.

Rhythm Touch Massagers comes with a one year warranty from the factory, and because of our belief that this product will help you find relief through its unique acu-therapy, Pain Relief Essentials is automatically extending the factory warranty to FIVE FULL YEARS if purchased through us**. That's right, we've been selling these amazing machines for so many years with so few problems that we can now offer you the best security available for Your purchase. And if you do need repair, Pain Relief Essentials is the only company in the US to take care of your need directly.
This is the easiest to use Electrical Muscle Stimulator on the market. It's so simple that you turn it on, pick the sensation you want to feel, and then turn it to the desired strength.
Buying from Pain Relief Essentials guarantees the best support available for our direct customers.
Read Frequently Asked Questions about the Rhythm Touch and electrical muscle stimulators
Read our Rhythm Touch reviews at the bottom of this page
Rhythm Touch Packages Available:
Pain Relief Brands of Products Available
Find specific instructions under each category under Conditions that cause pain and need relief.
The Rhythm Touch is not intended for use in the diagnosis, treatment or prevention of any disease
and / or any other medical condition.
Reviews for Rhythm Touch 2 Way
Save
Save
Save
Save
Save
Save
Save