Description
The Thermotex Horse Blanket
You as a horse owner are a breed of your own. Whether you have thoroughbreds or your horse is a beloved family member, your horses require a large investment of time, attention, and finances. And because of this, we want to make sure your investment pays off by having you choose our patented Thermotex Horse Blanket for all of your horse's needs.
It's soothing, deep heat (delivered through FAR infrared thermal energy) penetrates beneath the surface of your horse's skin delivering much-needed pain relief and relaxation.
Your horses deserve the best. They also deserves to be free from lactic acid build up in their muscles, to relieve soreness from any injuries, to eliminate inflammation of the joints from arthritis, and to do away with sinus inflammation…all of which can happen with the use of the Thermotex Horse Blanket.
Our Thermotex Equine Horse Blanket also:
uses infrared therapy to increase hemoglobin 25% to 28%
acts as a diuretic for bleeders
reduces lactic acid levels which helps prevent tying while your horse is competing
helps a non-sweater produce sweat which in turn will help with increased function of its kidneys
helps your horse stretch out, prevents washing out, and tying up
excellent pre-race warm-up tool – use the Thermotex blanket to warm your thoroughbred before the race to save it's energy for more wins
You'll find that your horses will showcase shinier hair due to the blanket's ability to bring out the natural oils in the skin.
What do horses experience? Let your horses experience warm, generous heat that soothes stiff muscles and aching backs for however long is wished,  …there are no adverse side effects and no overheating.
Safe, effective, comforting…all the things you would wish for your valued family member.
The pads within the blanket use infrared energy to increase blood flow providing nutrients, oxygen, and proteins to the treatment area delivering temporary relief of pain and inflammation. It takes about 20 minutes for the infrared to penetrate to a point where it's therapeutic. Anything after that is actually deemed a real treatment time so 45 minutes, is of course, is better than 30. We've proven in studies that the infrared from our product penetrates at least 2.36 inches (6 centimeters) after 20 minutes. We know it goes deeper than that but they only put the probes in 6 centimeters. Thermotex is the only maker of this product in the world with patented technology so tightly guarded cameras aren't allowed into the factory.

Depending on what you're trying to do, if you already know your horse has an injury Then you're going to be treating them to help the injury so I would recommend twice a day 30 to 45 minutes for each treatment for a couple weeks.  After that you could probably reduce your treatment time. Your horse will tell you you'll be able to tell the difference in them.
Lowest Price and Fast Free Shipping
Don't miss out on the lowest price available! We are able to ship the blanket to you direct from our warehouse in Tennessee or direct from the manufacturer in Alberta, Canada. For delivery in the United States, your package will normally arrive within 2 to 3 business days. You do not need to choose priority shipping for this product as this is already the fastest delivery option available!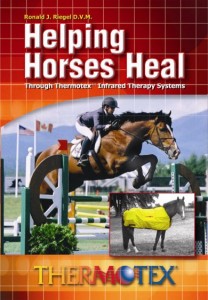 Purchase of the Thermotex Horse Blanket includes the book "Helping Horses Heal" (MSRP $29.95) with our compliments.
Thermotex Equine Blanket ships to you directly from our warehouse in Tennessee and may not arrive in the same package or at the same time as other products you order from Pain Relief Essentials.
With our Free Shipping, your horse blanket will usually arrive within 2-3 business days to locations within the United States.
Because we are happy to offer the Thermotex Infrared Horse Blanket at the lowest price available, it is not eligible for discount coupons.
NOTE: For hygienic and health reasons, used equine and pet products are not returnable.
There isn't a single equine discipline that would not benefit from therapy sessions with the Thermotex Infrared Therapy Systems. Each discipline has its own unique characteristics and stresses but all can benefit from infrared heat therapy. The important fact to remember is: "These appliances provide a safe efficacious infrared heat therapy to the equine athlete. They should be used as often as practical and in as many situations as possible. They only work when they are on the horse and the only time they don't work is when they are hanging in the tack room". THERMOTEX

The Thermotex Infrared Therapy Systems blanket was initially used to treat the Anhidrosis the horse developed after a severe colic; the infrared heat applied 2 to 3 times a week stimulated the sweat glands so that after some time the horse started to sweat again when exercised. While the main reason for the treatment was successful the added benefit of the therapeutic treatment persuaded professional race horse trainers from Singapore, New Zealand and Malaysia who followed the treatment, to add the treatment to their horses in training by following the recommendations documented in the book 'Helping Horses Heal'. My own blanket was extensively used on polo ponies during the yearly tournament and the engaged professional players were full of praise with the results. Based on the experience gained over
the last year I can only highly recommend the use of the Thermotex system. – Paul K. v. Lissberg thermotex-therapy-system-infrared-for-horses-vs-conventional-heating-pad-study