You Can Have Pain Relief From Conditions that Cause Pain
At Pain Relief Essentials you'll learn about conditions that cause pain and holistic products and methods that help bring relief to those who's lives are affected by pain. Our goal is to search out and make available the most effective non-invasive pain relief tools.
Discover simple to use systems that are extremely effective in conditions that no other method of pain relief can mimic.
Using the Rhythm Touch 2-Way Electrical Muscle Massager
for Pain Relief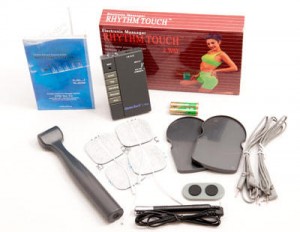 The staff at Pain Relief Essentials have been helping people for over twelve years while selling these products at trade shows and online, and are continually amazed how effective the Rhythm Touch is for each new painful condition. These conditions affect people like yourself who have tried everything... every other alternative treatment and all traditional methods of care which had no noticeable increase in their quality of life. Customers continually report how effective and useful the Rhythm Touch can be!
This is the easiest to use Electrical Muscle Stimulator on the market. It's so simple that you turn it on, pick the sensation you want to feel, and then turn it to the desired strength.
We want to provide you with the most comprehensive information on using the
Rhythm Touch electrical muscle massager for your pain relief.
On this site you'll find the most comprehensive manual for the Rhythm Touch that we know of, free to download. You may also order the manual and it is included in our featured deluxe package. You'll also find the most comprehensive information on-line about the Rhythm Touch and using it to relieve painful conditions. The results with neuropathy show promise of surpassing anything a doctor or physical therapist has achieved, and the list of conditions below continues to grow!
Painful Conditions and Resources for Pain Relief
Please read through the resources here on conditions such as Fibromyalgia, Arthritis, Migraine Headaches, Carpal Tunnel Syndrome, Tendonitis, Sports Injuries, Plantar Fasciitis, Repetitive Motion Injuries, Neuropathy, and more. While these resources are not meant to replace medical advice or treatment, they may help direct you to pain relieving solutions.
Our- Risk Free, No-Hassle , 30 Day guarantee

Pain Relief Essentials offers you a guarantee that puts all of the risk on us! It's literally this simple: Order the system today. If you are not completely satisfied with your Rhythm Touch 2-Way after 30 days of continuous therapy as instructed just let us know and we'll promptly refund every penny of the purchase price.
Try The Rhythm Touch 2-Way Winter Special Package

Rhythm Touch Winter Special Bundle

Regular Price: $525.00 NOW ONLY $239.95 US
The Rhythm Touch Electrical Muscle Stimulator Deluxe Package Contains:
1 Rhythm Touch Complete Kit PLUS

1 Rhythm Touch Genuine Leather Case PLUS

1Custom Easy to Read Manual PLUS

1 Extra set of 4 special Pain Relief Essentials pads*
The most complete package available on the web

Rhythm Touch Deluxe Package
Code: RTQDP
Price: $599.00 ONLY $299.95 US!
The Rhythm Touch Q Electrical Muscle Stimulator Deluxe Package Contains:
1 Rhythm Touch Complete Kit
PLUS
1 pair Rhythm Touch ACU-FEET THERAPY
PLUS
1 Rhythm Touch GENUINE LEATHER CASE
PLUS
1Custom EASY TO READ MANUAL
PLUS
Now: 1 Extra set of 4 special Pain Relief Essentials pads
Rhythm Touch Way Supplies - Pain Relief Essentials offers carefully selected replacement pads and cords for the Rhythm Touch electrical muscle stimulator that are made in the USA.
*pad color changed in 2011 with improved manufacturing process.