Description
The Full System Rhythm Touch Deluxe Package

The Rhythm Touch Deluxe Package Electrical Muscle Stimulator is the easiest-to-use and longest-lasting electrical muscle stimulator on the market today!
It is a Class II medical device that uses Electrical Muscle Stimulation (EMS) and Transcutaneous Electrical Nerve Stimulation (TENS) to stimulate your muscles while blocking pain signals from the brain. The combination of the two types of stimulation provides release from the agony of aching muscles.
Purchasing our full system Rhythm Touch Deluxe Package is the best way to experience this reprieve from muscle pain. It is the most complete low-frequency pain relief system available.
The deluxe package offers the electrical muscle stimulator with all of its normal accessories along with extra products you'll love.
One extra product is the Genuine Leather Case. The case allows you to hold the Rhythm Touch – 2 Way on your belt, permitting you to take it with you wherever you need to go. It protects the Rhythm Touch in your purse and acts as a handy storage while at home.
But that's not all!
Specially-designed Acu-Feet Therapy Slippers deliver stimulation to the base of your feet and are included in the deluxe package. The Acu-Feet Therapy Slippers are specifically made to be used with the Rhythm Touch or other quality stimulators. They have special acu-therapy points that focus on reflexology areas in your feet.
With the slippers, you will be able to stimulate the bottom of your feet using one of the channels of the Rhythm Touch while simultaneously using the other channel to stimulate a separate area of your body.
The Rhythm Touch Deluxe Package also provides you with extra pads and our proprietary manual printed in an easy-to-read format with color charts.
Why not take advantage of special package savings while finding the pain relief you need?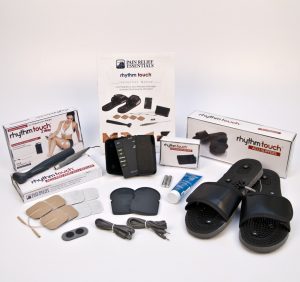 The Rhythm Touch Deluxe Package Specifics
Rhythm Touch 2-Way Deluxe Package Unit with 2 AAA Batteries offering low frequency acu-therapy
2 lead wires (will operate 4 pads) and four 2×2 self-adhesive medical pads
One Acu-Roller Mobile Stimulator and Massager
One Acu-Pen Pressure Point Activator
 One Acu-Mouse Facial Muscle Pad
One Manufacturers Small Print Manual
Manufactures Carrying Case for above.
AND
The Rhythm Touch GENUINE LEATHER CASE designed to clip onto your belt
The ACU-FEET THERAPY muscle stimulating slippers designed for the Rhythm Touch.
Our custom EASY-TO-READ full-size Manual with diagrams, charts and user information (Pain Relief Essentials Exclusive!)
One extra set of four premium Pain Relief Essentials brand of Rhythm Touch Replacement Pads.
Rhythm Touch Frequently Asked Questions
Click Here to check out the download version of the manual prior to ordering (email required). It does not include the color charts as they make the download too large.
We are proud to offer a 30 day money-back guarantee; we firmly believe you will truly experience a new lease on life when the Rhythm Touch releases you from your painful muscle aches and strains.
Products are normally sent the same or next business day from the day your order is placed. During holiday periods there may be delays. If so, next day delivery via United Parcel Service will arrive two business days after your order is placed.
Reviews for Rhythm Touch 2 Way Deluxe Package
Check out the reviews tab to see more about what our customers say about the Rhythm Touch or read more testimonials.