Description
Three (3) washable and reusable microfiber Smart Living Steam Mop Replacement Pads for your steam mop that normally sell for $25.99
Highly absorbent
Machine washable
Help to remove stubborn stains
When you are applying the microfiber pad place it on the floor and place the mop over the pad. You can put on the pad before you turn the mop on, but we recommend that you put the pad on after you turn it on because there is a little bit of moisture that comes out of the mop right when you turn it on. If you already have the pad on you'll be starting out with a wet pad to clean your floor. We recommend that you turn the mop on and hold it until it's steaming, and then attach the microfiber pad by placing the unit on it. Now you'll start with a dry pad and be able to clean a much bigger area before you need to switch the pad.
TIPS
Wash the pads in the washing machine. Do not use Bleach. Do not use fabric softener or dryer sheets. If you hang them to dry they will last longer – about another six months.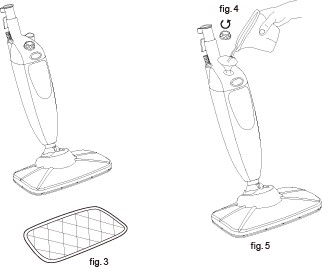 Place the microfiber cleaning pad on the floor with quick fastener strips facing up. Simply press the steam mop onto the pad to attach.(fig.3)
TIP Your microfiber cleaning pads should be replaced every 3 months to maximize cleaning performance.
* Steam Mop Pads ship from Washington State within a few days of order