Rhythm Touch 2 Way Electrical Muscle Stimulator
The Rhythm Touch 2-Way Electrical Muscle Stimulator is useful for deep muscle and tissue pain relief. With the longest* history of use and with many thousands of customers who have found relief from their pain through the use of this particular acu-therapy machine, we have found most of our users prefer this brand. Please read our comparison pages to learn how different electrical muscle stimulators relate to the Rhythm Touch Q. Approved for non-prescription sale by the US Food and Drug Administration. (http://www.accessdata.fda.gov/cdrh_docs/pdf6/K063743.pdf)

Now get more! Purchase a Rhythm Touch 2-Way Direct today and we'll add an extra set of four to your order. That's a $20 added value for free! (limited time offer)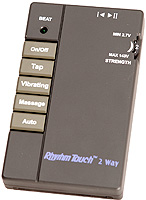 Rhythm Touch Massagers comes with a one year warranty from the factory, and because of our belief that this product will help you find relief through it's unique acu-therapy, Pain Relief Essentials is automatically extending the factory warranty to FIVE FULL YEARS if purchased through us**. That's right, we've been selling the Rhythm Touch for so many years with so few problems that we can now offer you the best security available for Your purchase. And if you do need repair, Pain Relief Essentials is the only company in the US to take care of your need directly.
This is the easiest to use Electrical Muscle Stimulator on the market. It's so simple that you turn it on, pick the sensation you want to feel, and then turn it to the desired strength.

Buying a Rhythm Touch from Pain Relief Essentials guarantees the best support available for our direct customers.

Please preview a special manual in an easy to read large format from the Pain Relief Essentials Manual page.

Our- Risk Free, No-Hassle , 30 Day guarantee

The Pain Relief Essentials organization currently has over 5000 customers who enjoy using of the Rhythm Touch Q with virtually no equipment trouble. With total confidence we are able to offer you a guarantee that puts all of the risk on us! If you do need to return your massager, please call for an Return Authorization code.
It's literally this simple: Order the system today. If, you are not completely satisfied with your Rhythm Touch Q after 30 days of continuous therapy as instructed just let us know and weíll promptly refund every penny of the purchase price.
Acu-Therapy Slippers
The addition of the new Accu-Therapy slippers to the Rhythm Touch is simply incredible. The slippers address a problem that many of our customers have: poor circulation in lower legs and feet. Read more about these slippers on our supplies page.
Quantity discounts are available for wholesale orders. Please call 888-366-3257 to learn more.
*The Rhythm Touch 2 Way is based on developments that began 30 years ago in Korea, and has helped literally hundreds of thousands of users around the world.
**Warrantee covers Rhythm Touch main unit, Acu-Roller, and Acu-Pen, and is exclusive of pads, batteries, cords and other consumables. Applies to purchases after July 1, 2006.
Products Available
Find specific instructions under each category under Conditions that cause pain and need relief.
We encourage all who use the Rhythm Touch to use it 3-7 times a week. For many men, placing their Rhythm Touch next to their TV remote control works well for reminding them to use their unit every day. Many of our customers use it at work, whether in an office, driving truck or large machinery there is no restrictions because it so small, lightweight, portable and battery operated. A common favorite is to use it during travel, particularly plane travel. To be able to get up from those cramped seats with no muscle cramps and feeling refreshed is incredible. One of our first customers purchased it for Bells Palsy and immediately was an advocate of using it for travel. He traveled from Anchorage Alaska to Australia and took his Rhythm Touch to use on the 12 hour plane ride.

For those with serious conditions using the Rhythm Touch constantly is very important. I think of those with neuropathy. This is a condition that seems to get worse every day, with consistent use the customers have reported that it does not get worse and in a few cases, they are reporting feeling it is getting better. Most will say they really notice when they do not use their unit for a period of time.