Description
8 Pack of Premium Silver TENS Electrodes and EMS Electrodes
Set of eight individual silver TENS electrodes (adhesive gel pads) for use with  Electrical Muscle Stimulators, IF, or TENS devices requiring electrodes.  These high quality premium electrodes are designed for use 20 to 30 times with proper care, and come in re-seal able bags for storage so that the adhesive gel remains moist and pliable.
Silver Layer for Best Electrical Dispersion
Self-Adhesive
Long Lasting
Flexible
Reusable
Made in the USA
Electrodes are normally sent the next business day from the day your order is placed. During holiday periods there may be delays.
When ordered separately this product is shipped via USPS.
Follow this link to our page about Pain Relief Essentials high quality premium electrodes – designed to meet a balance of comfort, effectiveness, durability, and price.

Save 10% on Premium Silver TENS Electrodes . Join newsletter for code.
These cloth backed replacement pads (electrodes) are constructed of a uniquely coated Silver (Ag) carbon film that provide superior conductivity and eliminate electrical current "hot spots".
This highly conductive silver layer disperses the electrical current evenly over the entire electrode surface. Our electrodes are also manufactured with stranded copper wire instead of a carbon lead. The end result is that you will have a more comfortable and effective use of your device.process.
This item contains 8 individual electrode adhesive gel pads.
Brand: Pain Relief Essentials
Manufactured: United States
Sealed in a tamper-proof pouch
Highly conductive stranded copper wire
Special dispersal lug-nut instead of split wire connected directly to silver layer
Premium tan cloth top coat material
Highly conductive (Ag) Silver layer distributes current most effectively
Conductive Carbon Film
Gel Layer
Reemay Layer
Gel Layer against skin
Compatible with EMS, IF, and TENS as well as other electro-stim applications
Total of 8 electrodes: two packs of four electrodes
Why should you use Pain Relief Essentials electrodes? These EMS and TENS Electrodes are manufactured in the USA using state of the art processes and include special layers of material that effectively distribute the current over the majority of the electrode. This increases your comfort and the effectiveness of your device.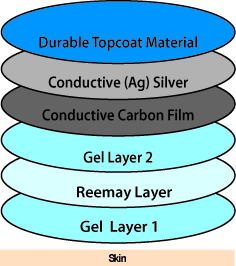 Save
Save