Our Best Electrical Muscle Stimulator
The Best Deal Just Got Better!
If you missed us at your local fair, home show, physical therapy show, sports expo, or other live demonstration event, you can still take advantage of the special pricing we offer with the Rhythm Touch 2-Way Fair Special and save the entrance fee by ordering here.
This is the easiest to use Electrical Muscle Stimulator on the market. It's so simple that you turn it on, pick the sensation you want to feel, and then turn it to the desired strength.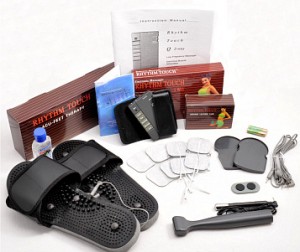 Rhythm Touch 2-Way Deluxe Package Fair Special!
Code: RTQDP
Price: $760.00  – ONLY $299.95 US! – save
 The most complete package available on the web.
$599.00 Add to cart
The Rhythm Touch 2-Way Fair Special Electrical Muscle Stimulator Deluxe Package Contains:
1 Rhythm Touch 2-Way Unit with Batteries,
2 lead wires (will operate 4 pads),
4 2×2 self-adhesive pads,
1 Acu-Roller Mobile Stimulator and Massager,
1 Acu-Pen Pressure Point Activator,
1 Acu-Mouse Facial Muscle Pad,
1 small print manufactures manual
Manufactures Carrying Case for above.
5 year warranty for Rhythm Touch Unit!
~~~ AND ~~~
1 pair Rhythm Touch Acu-Feet Therapy muscle stimulating slippers designed for the Rhythm Touch
~~~ AND ~~~
1 Rhythm Touch Genuine Leather Case designed to clip onto your belt and hold the Rhythm Touch
~~~ AND ~~~
1Custom Easy to Read Manual with diagrams, charts and user information (Not available elsewhere!)
~~~ AND ~~~
Approved for sale by the FDA
Phone Orders
(888) 366-3257
Office Hours 7am  – 7pm Pacific Time
*Pad color changing in March 2011 with improved manufacturing process.
Rhythm Touch Massagers comes with a one year warranty from the factory, and because of our belief that this product will help you find relief through it's unique acu-therapy, Pain Relief Essentials is automatically extending the factory warranty to FIVE FULL YEARS if purchased through us**. That's right, we've been selling the Rhythm Touch for so many years with so few problems that we can now offer you the best security available for Your purchase. And if you do need repair, Pain Relief Essentials is the only company in the US to take care of your need directly.
Buying a Rhythm Touch 2-Way Fair Special from Pain Relief Essentials guarantees the best support available for our direct customers.
Please preview a special manual in an easy to read large format from the Pain Relief Essentials Manual page.

Our- Risk Free, No-Hassle , 30 Day guarantee
The Pain Relief Essentials organization currently has over 6000 customers who enjoy using of the Rhythm Touch 2-Way with virtually no equipment trouble. With total confidence we are able to offer you a guarantee that puts all of the risk on us! If you do need to return your massager, please call for an Return Authorization code.
It's literally this simple: Order the system today. If you are not completely satisfied with your Rhythm Touch 2-Way after 30 days of continuous therapy from date of purchase as instructed just let us know and we'll promptly refund every penny of the purchase price.
**Warranty covers Rhythm Touch main unit, Acu-Roller, and Acu-Pen, and is exclusive of pads, batteries, cords and other consumables. Applies to purchases after July 1, 2006.
Save
Save
Save